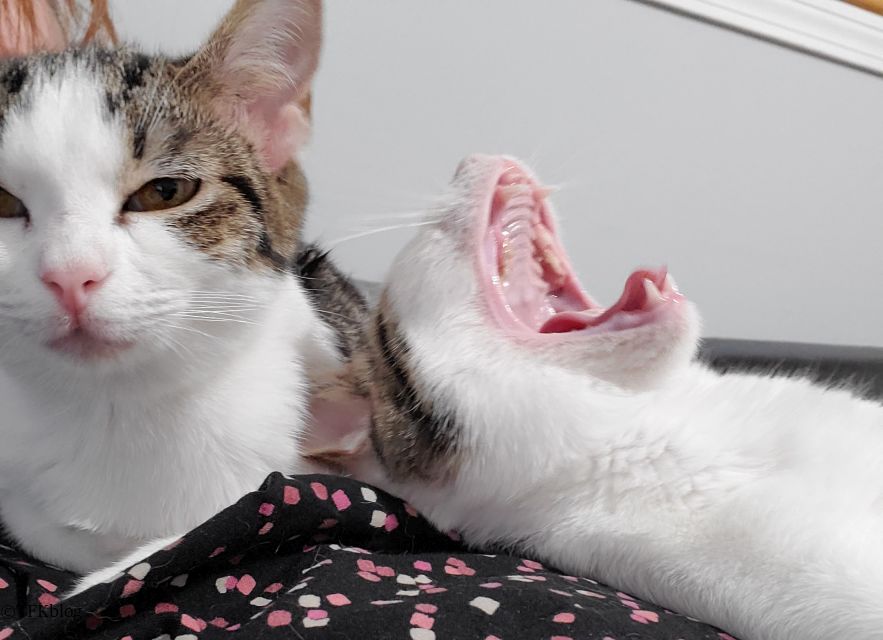 We have news!
I am sorry for the failure to update the past few weeks. There wasn't a lot to report and despite my begging for a home for these two on social media, there was painfully little interest.
Wednesday I received a text asking me how old they were and a few hours later I received another that we might have an adopter for them. Later that day I was asked to bring them to the vet on Thursday for a wellness exam to get a health certificate.
I have absolutely no reservations about Casey moving along and going to a new home and environment as she was always the first to adapt to new things. Cabana was always much more reserved. I was glad to see him exploring the exam room at the vet and not hiding as if the entire world was out to get him. I worry about all of my fosters, but the ones that were once feral or incredibly fearful are the ones that I stress over. To make his life a little easier I packed a gift bag for their new owner that included some of the food that they love, some toys they loved and two different scent soakers to keep their scent with them in their new home. I probably overdid it.. but I don't care. Because they were adopted by the shelter and not to someone I found on social media, I probably won't get updates, but that is okay.
I also took some glamour shots before they left and here are the best ones. Hopefully in the next week or so I will go through all of my photos and see if I have twelve of them so I can create another calendar this year.. that is if there is any interest in one..