When Michaela first arrived her back in May, she was vomiting a lot. I was trying to narrow down the things that would cause her to vomit so I wouldn't have to clean it up every day. I am sure there are more things then I found, because she became stable on canned pate foods in chicken and turkey flavors. She was eating up to six cans a day, it was a little overwhelming and keeping canned food "in stock" was a little difficult.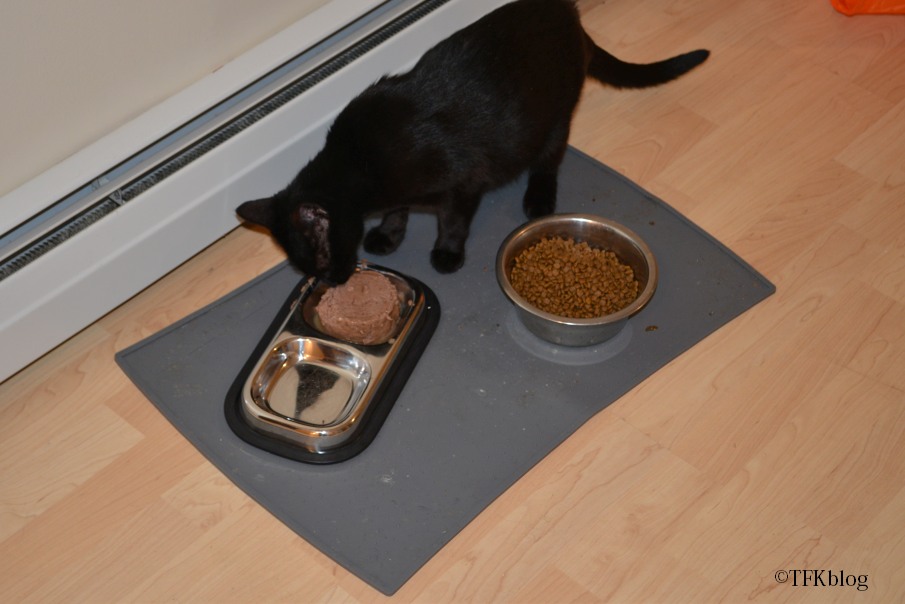 When Michaela went back to the rescue, they got her on an all dry food diet. Longtime readers of this blog know I'm not a fan of this for a few reasons
*
, but I don't run the rescue, so I have no say in this. They were able to get her on to dry and she didn't vomit, so when she came back here it was recommended that I keep her on dry.
With low stocks of canned food, I gave it a go. Michaela remembered that I am a sucker for a begging kitty and give canned food, so it was difficult going for me. However, what has reverted me back to canned food was this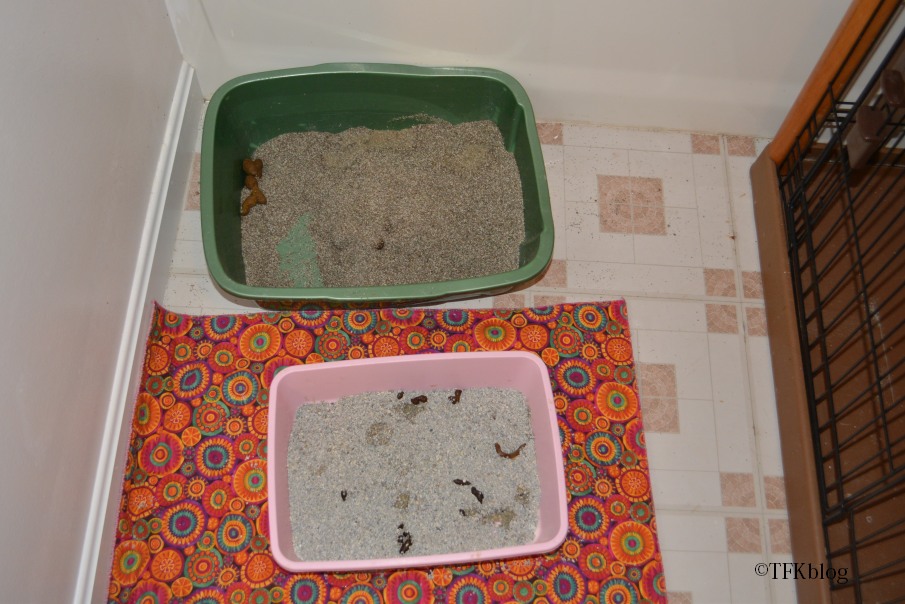 I have talked about the differences between
stool in raw fed cats
vs cats who are
eating canned food
, but the
output of cats
eating only dry... woh. It isn't that easy to see that there was quite a bit of stool in the larger green box because it is covered in litter. Both boxes were full up - and this didn't include the four piles of poop that were scattered around the room either because the boxes were full or because the kittens still haven't made the mental connection between a box and having to "go".
I immediately opened up a can of food..
Michaela now gets two cans in the morning - one for her to start on and when the kittens come over to eat she just sits back and waits for them to finish and the other for her - and two cans at night. If I had unlimited numbers of canned food I would give her three or more. But canned food is running low and without more, I am going to have to start rationing it.
If anyone would like to donate to the cause, I have my Amazon wishlist over there on the sidebar. you could also email gift certificates to any store that delivers. Don't feel you have to, I have plenty of dry food for them, they will not starve - but it just means I'll be going through more litter 🐱