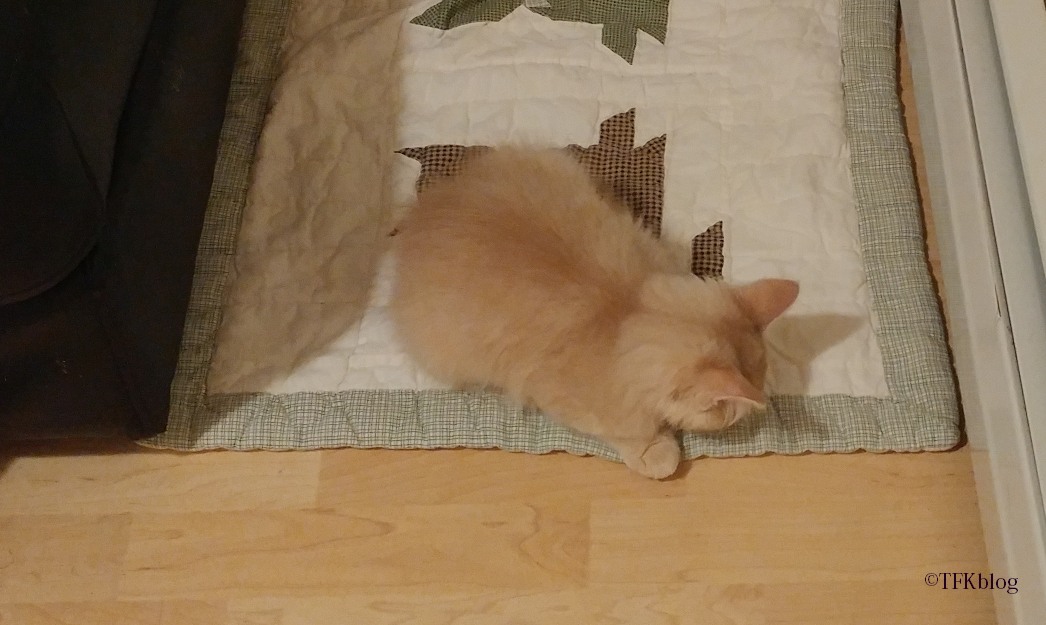 Unfortunately, things have taken a pretty sad and serious turn here at Casa de Gato. Everything seemed fine on Wednesday morning, but when I went to take care of them for the final time that night Graham seemed very restless. He was pacing the room. He would walk over to the food bowl, have a bite and leave and pace some more. As I started to realize what was happening (it wasn't immediately apparent because the other kittens were racing around) I watched him and he seemed to be in more and more distress. I called him over to me and he came and laid down next to me but was not attention seeking at all. He just sat there and purred.
I had noticed he was unkempt looking as he was pacing and now that he was next to me I was able to get a better look. His back end was all wet and smelled like urine. I found a drying puddle of urine on the floor and wondered if he was having issues with crystals or an infection. I attempted to gently feel for a bladder and found one. It wasn't huge or hard, but the fact that I could find one was concerning to me. I called the rescue and to report what was going on and request a trip to the emergency clinic. Fortunately, there is one about 15 minutes from my house and we bundled him up and headed in. On the way, he started twitching. I opened the carrier and put my hand over his shoulders and he pushed up into them and had a seizure. I let the rescue know what was going on and things took a pretty dramatic turn. I went from a possible infection to *
oh my goodness what on earth is going on
*
The e-clinic took him out back for an eval while they talked to me about what was going on. I checked the carrier and noticed he peed during his episode, so at least I knew he wasn't blocked. At this point, it was midnight so we were only a few hours away from a vet being open so we wanted to keep testing to a minimum. I am all for figuring out what is going on, but if delaying the tests a few hours isn't going to change the outcome and it will save several hundred dollars, then that is the route I, and the rescue, wanted to take. While I was talking to the vet he had another seizure. This changed things.
I authorized what they felt they needed to do for his comfort and safety and I left with a bill of $700 - because they require you prepay everything you authorize them to do before they do it and then refund you what they don't do.
I got home at 1 am and woke up at 7 am. I called the clinic for an update and that never goes well. Why to E-clinics not keep brief talking points at the phone for the receptionist?? Anyway, the doctor called and told me that he didn't have another seizure and he spent some time sleeping. She also believed that the seizures caused him to be blind. This is not uncommon. The director of the rescue was going to pick him up and take him to their vet. I was also headed out of town for the day. He spent the entire day at the vet and I was able to pick him up. He is now home with me.
The vet said she could not find a cause for the seizures. It is either idiopathic and will clear up and never happen again, it is toxo and so she put him on antibiotics for that, or it is something very serious and if so most likely life ending. I asked if it could have anything to do with the neutering, the vaccine he received at the time or the flea meds that he received on Sunday. She said those causes were highly unlikely. I asked if it was a possible low blood sugar thing because everyone was so hissy lately and maybe they were preventing him from eating, and she believed not as he would have most likely passed out first. I asked about the blindness and was told that he was having some pupil response now but that she still thought he was highly visually impaired. She said if his vision wasn't restored in a week that he probably wouldn't get it back.
He came home and didn't want to come out of the carrier. I pulled him out so I could take the bandage off his foot. He did not want to be restrained, at all, period. He doesn't want to be held or snuggled or even sit on my chest. This breaks my heart most of all because I am no comfort to him. All I can do it sit by and watch him. He wandered around for a while avoiding siblings and other obstacles in the room. He walked right too me and weaved his way between my legs (one of his favorite things to do) without bumping into either leg. It is my belief that he can see. I threw a small toy in front of him and it garnered no reaction, but it was small and I tossed it quickly.. I tried another larger toy and he tracked it. So while I don't think his vision is 100% I do think there is some function.
He ate several small bites. He would go to the food and eat a bit and then would wander off and pace the room again. He went back several times. He then went to the litter box. He dug and squatted, squeaked his displeasure, dug some more, squatted, squeaked his displeasure, etc.. I was about to have a panic attack when he finally found a hole to his approval and started urinating. He produced a urine ball that was the size of his head! He almost fell asleep while peeing - again, totally about to have a panic attack when he started leaning forward and resting his head on the side of the box but he finally finished and left.
He went to the middle of the room. I tried to take his bandage off quietly, but he wasn't happy at my holding his foot. He just sat there and purred at full volume.. which made me worry. I tried to pat him - which he liked - and I was able to kiss him, and wrap my arms around where he sat - so like a big hug without touching him. I was not thrilled that he was on the cold floor, so I tried to put him on Happy Bear. Graham always liked Happy Bear, but this time he squawked his displeasure and got off. He was quite unsteady getting off and I think that was probably the reason. I went and got a blanket for him to sit on instead. He wandered to the edge of it and sat there and purred and purred. Michaela who has been extremely bothered by the kittens since being neutered was concerned for him and actually worked her way over to him. She's been secluding herself so the kittens won't try to nurse so this was a very interesting reaction.. it appears that cats can tell the difference between happy purrs and purrs of self-soothing.
His siblings, for the most part, have been respectful of his need for rest. S'more was less than gentle with him a couple of times, but it ended pretty quickly.
I left him sleeping. I wish I could do more. I have a few thoughts I'll talk to the vet about tomorrow as I had them once I got home. I know I'm probably grasping at straws. I'm also hoping that I'll wake up tomorrow to a much improved Graham who is feeling much better and I won't need or want to do anything else. If you want to check on him, I left him sleeping in full view of
the webcam in the kitten room
If anyone is motivated by Graham's story to help financially, the rescue that is sponsoring him could use some help to pay for the bills. I know people feel silly donating very small amounts, but even $5 can help. You can find a donate button or the mailing address if you prefer to send a donation at
nhkittens.com
or you can use my paypal address (the donate link is in the sidebar) and I can forward it on.