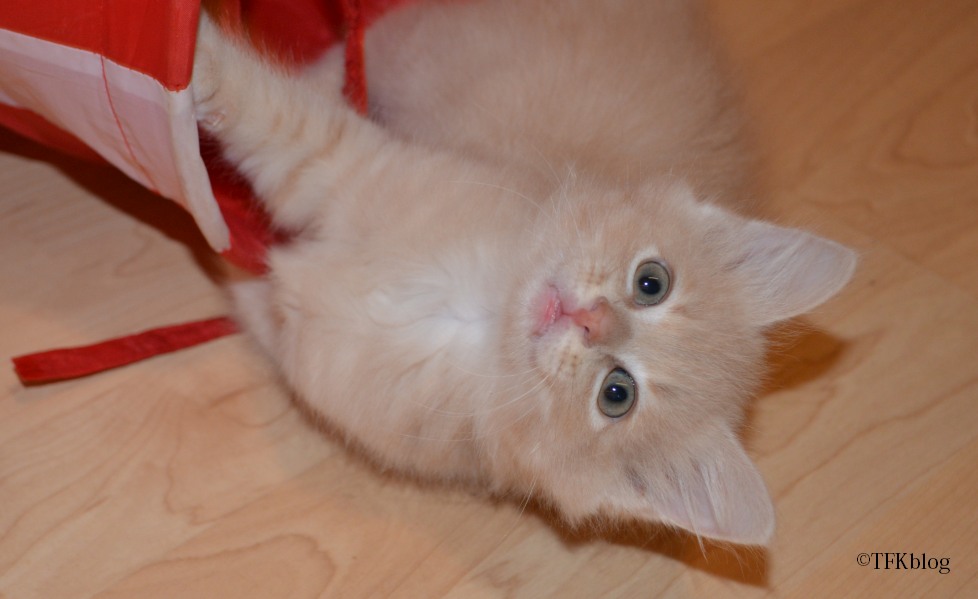 Well, this was mighty difficult. Actually, the decision was very easy to make but carrying it out was the difficult part.
After I picked Graham up from the vet, I was optimistic. I was told that he was blind but he was navigating the room okay. He was walking around, he ate, I had hope.
He then settled down in the middle of the cold floor. I wanted to give him some comfort so I tried to hold him, he did not want that. This was unlike him. I tried to give him Happy Bear, he did not want that. This was unlike him. I was able to get him on a blanket and hoped that a good night of rest in familiar settings would help. I was exhausted and went to bed.
Because I posted the link, Stella was watching in on the webcam in the morning and saw him have another seizure. I went down post seizure and he was still out of it. I was able to cuddle him until he came around but at that point, he wanted nothing to do with me. He was covered in urine again, so I did my best to dry him off without upsetting him too much.
I went back upstairs to work and kept the camera running on my computer. Two hours later I saw another seizure and it was violent. He was still flailing as I got to him and I tried to keep him as calm as I could. When it stopped he was once again nonresponsive. He sat there but it was like no one was home. I wrapped him up in a towel and was going to rush him right to the vet but I was pretty certain if I did that I would not see him again. I decided to sit there and hold him for a few minutes as he always enjoyed cuddling and I enjoyed cuddling him. I held him and talked softly to him and kissed his head many times. As he started to come around I knew this moment had ended and he would start insisting he be put down. The Graham I knew and adored was gone.
Even if this was something that he could come back from, would he ever fully come back? I did not know. I just knew that two seizures in two hours was something I could not handle by myself. I took him down to the vet and the techs took him out back while I waited for the vet to be free and the rescue to be contacted. By the time I saw the vet Graham had two more seizures. It was time in my mind. The vet very kindly took the long road to explain why they had come to the conclusion as well. I agreed with her telling her that the decision was the right on and the easy one to come to but most difficult to go through. I was asked if I would like to be with him and that is something I can do so I wanted to.
Despite what others will tell you, if you feel you are unable to be with them at the end do not feel you have to or you do not love them or you are less than. In many cases, the animal isn't aware you are there. There are times that not being there is actually kinder for the animal, especially if they are very sensitive to your moods.
Graham was not only out of it from the seizures but they sedated him prior to the injection so he had no clue I was there. I had my hand on his body and could feel his very rapid heartbeat despite the sedation. I held him, I gave him a kiss for myself, for all of you, and one for a safe journey. The whole thing took only moments..
Once he was gone I gave his body one final cuddle.
I will admit a huge part of me wanted to adopt him and not let him go. In not the way I would have preferred, I was able to love and care for him for his entire life. None of us are promised a long life, but I was able to fill his with love and fun and food.. his life, while short, was great.