If all goes according to plan, Darcy will be leaving today for her new home. From what I have heard she will have quite a few people to give her the attention she craves.
She is doing amazingly well coming out of her shell. We painted the room this weekend and I feared it would cause huge setbacks and she would cower in the corner the whole time, but she was out and interested in what was going on. She wasn't keen on when my husband was standing to paint, but the minute he sat down she was out and exploring. It got to the point where I had to confine her to the bathroom so she wouldn't get into the paint. When we were done I opened the door to comfort her, expecting to find her cowering near the toilet, but she was at the door waiting and walked right back out! She wandered around and looked at all the things that were in the "wrong" spot and got used to everything again; very much like a normal well-socialized cat.
She still hides at "weird" things, but she comes right back out once she adjusts to it. She loves to play, playing by herself if need be. She loves snuggling and will lay on my chest for kisses. She likes having her back end scratched, and I will always love the curly Q her tail makes when you do.
I will miss her, but I will be glad to be able to do some more things to that room to make it 'home' for me. I want to buy some new lighting, put up some climbing shelves and a few other things.. hopefully, in the next few weeks it will be all said and done and ready for kittens when they show up, but (and yes, I'm talking to you Universe) I will take kittens whenever they show up!!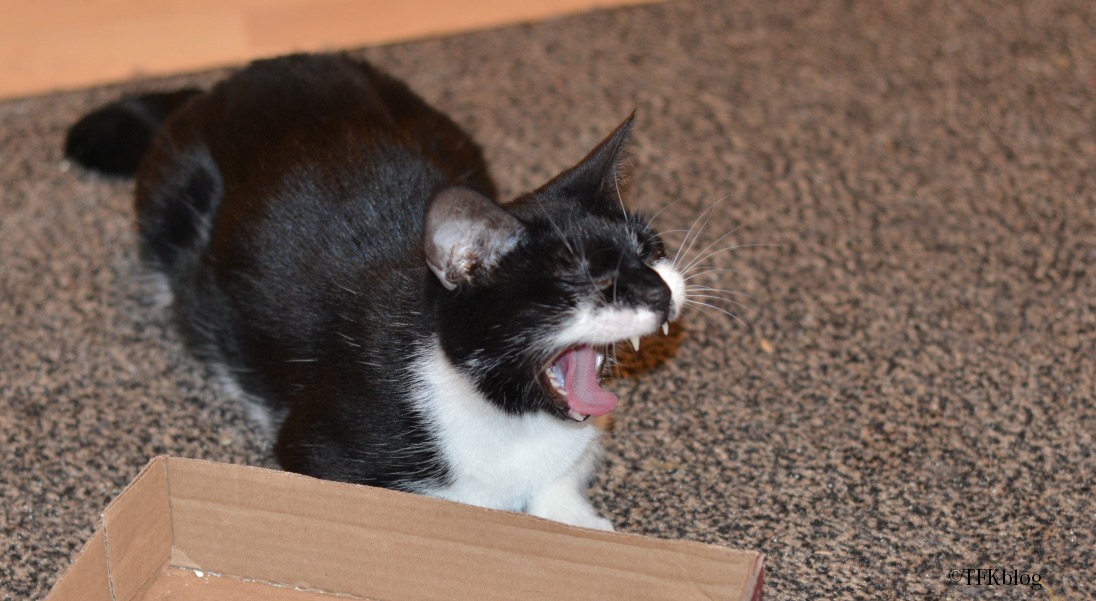 I am out of here!