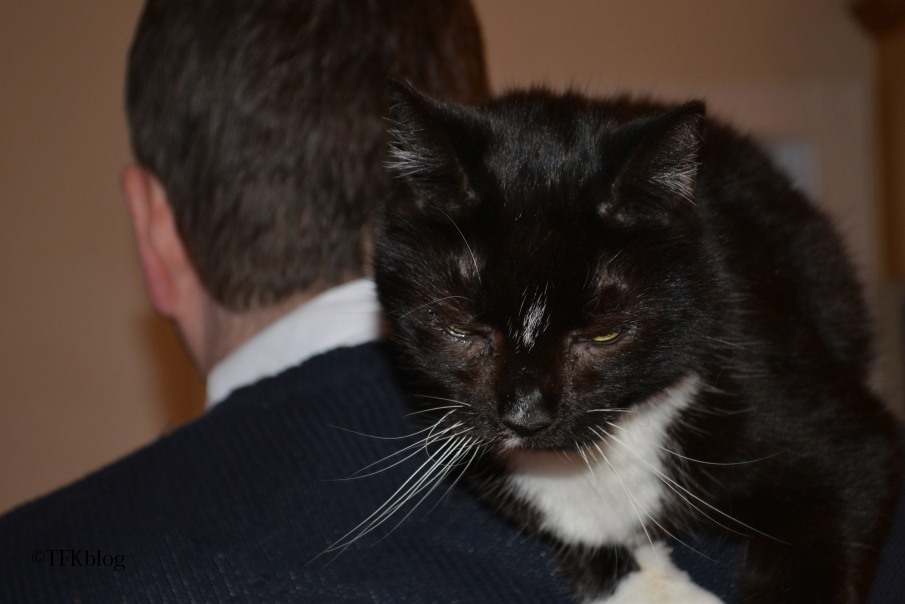 Tweedle was born in July of 04 which makes her *calculates* ugh, way too old.. 14.5ish. She still has the mindset of a kitten. She has always been "touched" in the head but she is incredibly sweet and an amazing hunter. She loves playing with fishing pole toys and always grabs the toy and holds on to it for dear life.
For those of you new to the blog, Twee recently ended up in emergency care for hepatic lipidosis. She stopped eating after Jack died. We noticed it initially but she hadn't lost any weight and I was feeling a bit paranoid so I didn't check in with her again until it was almost too late. I tried force feeding her, and while that went well enough, her personality disappeared and she seemed to be getting worse so we made the appointment to euthanize her. At the appointment, my husband couldn't go through it without throwing a hail mary, so we brought her to an emergency clinic out of state for a few days of care and several thousand dollars later she's doing much better. She was slow to eat when she came home. She has never ever been food motivated so I was fearful that I wouldn't get her to eat well without more medical help. As a last ditch attempt, I offered her some dry food and she ate it! I'm telling you, that stuff is addicting..
After recovering her weight and getting a clean bill of health, she's been a bit of a pain in the tushie. She can't seem to stop harassing Eli which bothers me but I can't seem to break her of it. It is not every day, but it is enough that I feel bad for Eli. I don't know why he doesn't stand up to her.
Twee is still very much my husband's kitty, always hanging out with him or is cuddled up to him. I'll do if he isn't around, but she misses him when he goes away and greets him happily when he comes home.