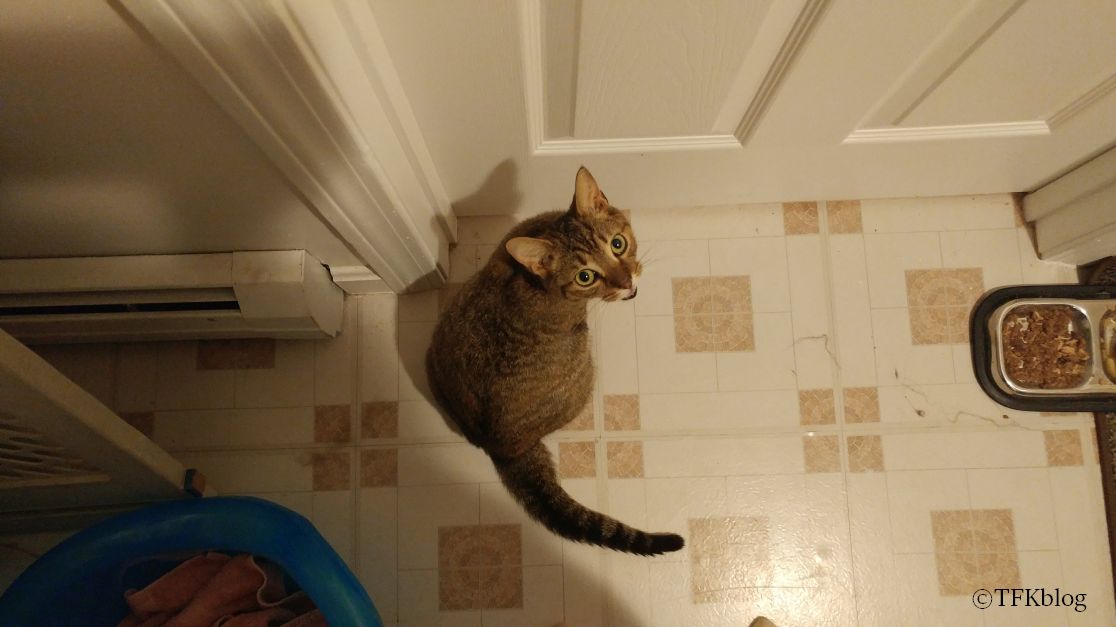 I know many of you have been wondering what is going on with Hedy. I talked on FB how she was up for adoption for a while after she left us. She went back early to be neutered to see if removing the hormones from her system would help with her weight loss and diarrhea, and it did.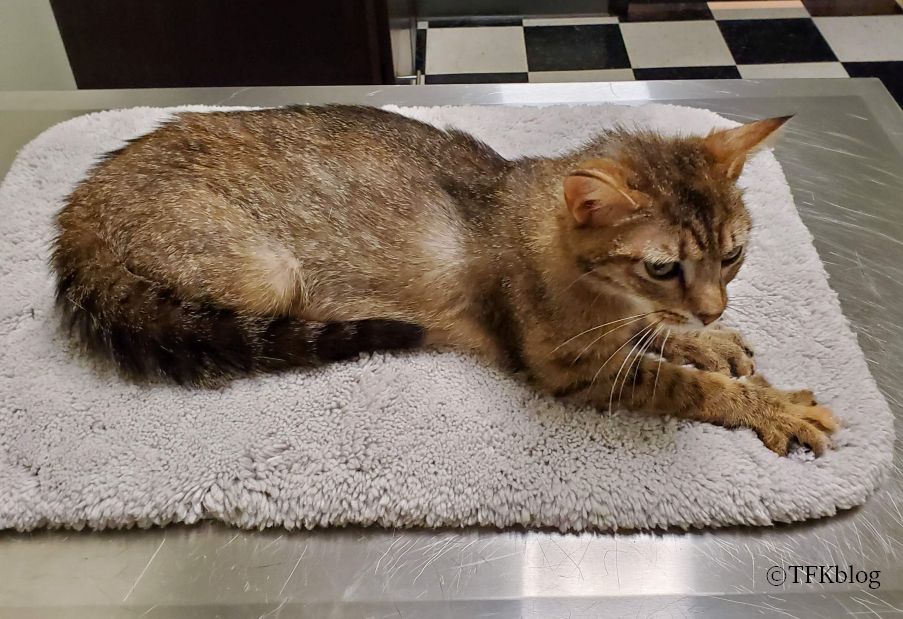 The woman who runs the rescue was very much wanting to keep her but she has enough on her plate right now so one more kitty wasn't really in the cards. It turns out one of my loyal readers reached out to the rescue and ended up making Hedy part of her household, and I could not be more thrilled.
From Marianne: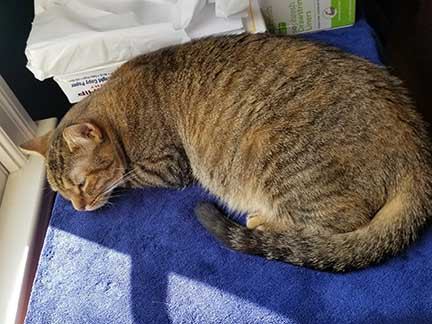 We were adopted by Hedy on August 27, 2019! I know Hedy has a lot of fans out there so I'm writing to let you know what she's been up to. She settled in easily, and loves exploring the house in great detail; eating and drinking quite a lot for such a small cat; loves her cat toys, especially her flirt pole, and loves to sit on the windowsill of an open window. I know she was a great Mom from following "Tales from The Foster Kittens," and that she is a great face buffer. I was messaging Connie earlier today that Hedy rarely seems to stop moving, and doesn't like to sit still for long. I can get a quick face buff if I lean down where she is walking or playing, but sitting still on a lap is just not her thing yet. When she wants to sleep, she favors a spot behind the sofa that no one can reach. She is exceptionally alert to every new sound in the house. She's just as talkative as you might have seen from Connie's videos! She will talk to you nonstop if you keep talking back to her!



We are keeping her separate from our beloved 6-year-ikd rescue dog, Theia, who has been in environments with cats before (a dog daycare, where the resident cats walked around freely) and is very enthusiastic about playing with her dog friends, but needs to learn to be calmer around the cat. Hedy is unafraid of the dog… she would walk right up to Theia, and Theia is anxious to play too, but we are working with Theia to be calmer around Hedy. We are working on having Theia be able to see Hedy from a distance (we're down to only 4 feet!) while staying calm and flat on the floor in a "down", "relax" (on one hip) position. So we're almost there, but I will still keep Hedy separate from Theia if we aren't around to supervise, at least until I am sure that Hedy has suitable "escape hatches" (up or under) in every room. Quite reasonably, Hedy's extra alertness may be due to Theia's occasional moaning to be allowed in to play with us. We are a family that has always, always had cats (multiple cats, actually) and Theia is our first dog. Once we had Theia, were not sure we could even have a cat, but Hedy's exposure to Kristin's two dogs convinced us this could work. Hedy is the perfect cat, and we are so thrilled she has joined our family!



She loves to sit on this toy; takes most of her after dinner baths sitting right here! It looks like she's locked up in a castle with a moat....
Thank you, Marianne. Know that a lot of people love your girl and are so glad she landed the good life.