I didn't photoshop Agate into this photo.
If you are following my page on
facebook
, you'll know that Hedy has a way of looking at me that blames me for EVERYTHING.. The kittens started leaving the nest this weekend and she looks at me like it is my fault. They climb all over her nursing, she looks at me like it is my fault. She sits on the couch next to me and the kittens scream, and she looks at me like it is my fault.
As you know, Hedy has been battling fur loss since she got here. Stress and hormones do that, so she looks pretty sparse. She's also been losing weight on and off. She was under seven pounds when she arrived, dropped after she gave birth (obviously) and I got her up over seven pounds but diarrhea came and claimed those hard earned gains. It doesn't help that she is super picky about food and will only eat shredded foods. I tried probiotics and I tried digestive enzymes and things got a little better but not much. We ran a fecal and it turned out to be negative but it looked a lot like coccidia by that time since the kittens were starting with diarrhea as well, so we treated her for it.
Things got much better for everyone. More weight gain, no stool all over kitten behinds, the litter box for Hedy was better. But then we stopped gaining and Marble and Sunsweet both started feeling thin and a bit dehydrated. I was supplementing them with milk and it helped, but as time passed it was pretty obvious that more needed to be done. I reached out to the rescue to see if they wanted to treat for coccidia again but they decided a vet visit was in order. Once that decision was made it became very apparent the kittens had diarrhea again. This is what they gave me overnight.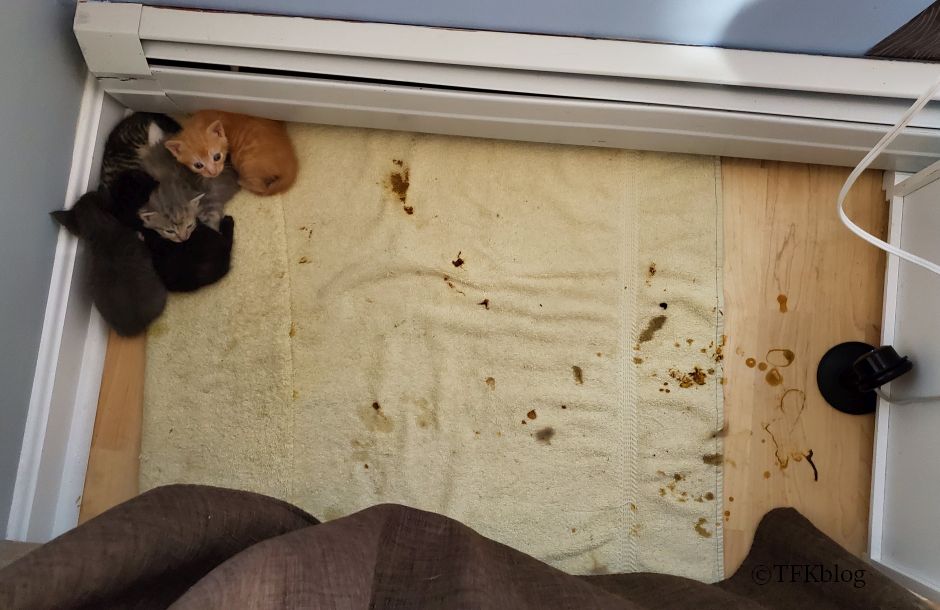 I called the vet and brought them in. Being a Monday they squeezed me in and it took almost two hours to get everything taken care of. they tested the stool and still don't see coccidia so that is seeming less like the culprit (but I don't consider the really negative until I have three negative tests, because I've had it pop up on the third test before)
The stool test showed that there was a bacterial imbalance so we were given some probiotics and some medication to try to balance that out. Is that the cause of this? It certainly could be. I really hope that this takes care of it because.. sick kittens.
As you can see in the first photo, she blamed me for the vet visit, I totally take that responsibility Hedy, this one is completely on me.
I'm also giving the littlest kittens fluids and I am ready to give Hedy some too.