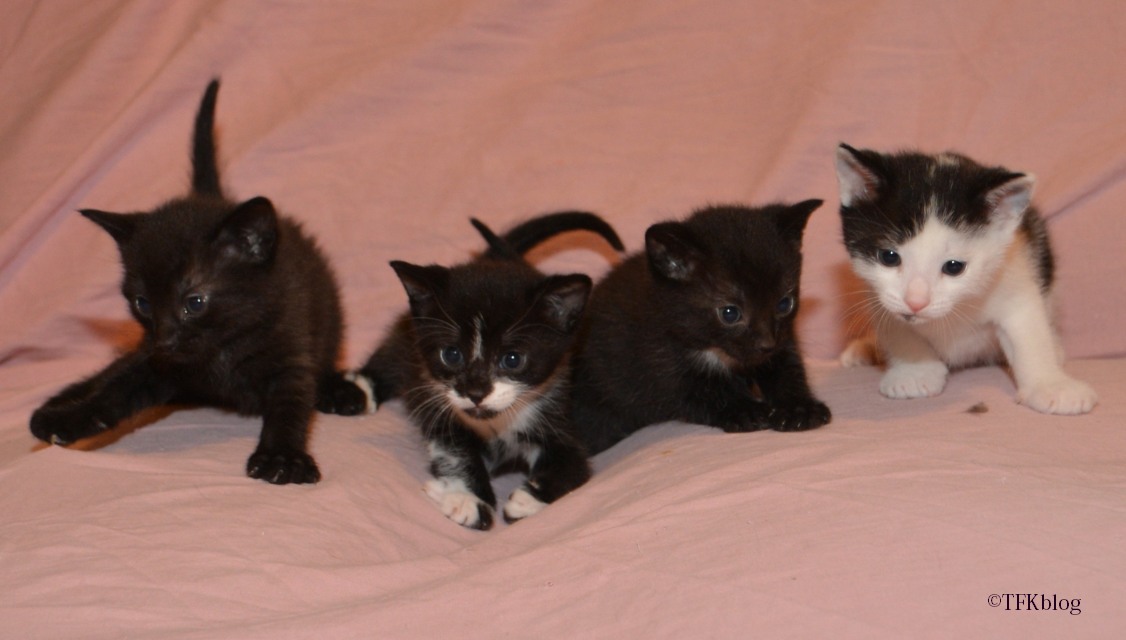 Milo, Ren, Romy, and Kreb are doing well. They are fat and happy kittens that are starting to investigate the world and are just starting to interact with toys. Milo and Kreb have a bit of a belly waddle going on which is super cute. The excess skin was impeeding Milo's ability to get up on his back feet and I was worried that he might have "
swimmers syndrome
" but as soon as I mentioned I was a bit concerned to the rescue, he got up on his back feet the next morning. He's still not perfect, but he is improving.
Onyx is doing well. I have a hard time not calling her Michaela as she shares a lot of the same traits and personality quirks. Onyx isn't comfortable picking up the kittens like Michaela. Onyx gets a little nervous when the kittens are out of the nest like Michaela and she loves to play like Michaela and also gives up quickly when a kitten is nearby.. like Michaela.. Unlike Michaela, Onyx has a little kink in her tail, and I think it is just a little bit shorter than it 'should be'. Onyx also has no idea canned food is food, so she is on a dry food diet only..


Milo is still learning where to place his feet. This photo is kind of deceiving as he has never looked this grown up in person.


Kreb is going to be a really cool cat when he grows up, I can see it in his personality, but right now he is still not sure of my grabby hands so he's a little leery of me.


Romy is in love with the CatMan.. but then what girl kitty isn't? She is a total sweetheart and is a bit smaller than her brothers at this point.


Ren is going to be hard to tell apart from Spottacus when they are finally introduced... well when they are free running in the room. I introduced Spottacus to Onyx's kittens yesterday and Spottacus was quite unsure of what to do.. Onyx took one look at him and took two sniffs and then went off to count kittens.. it was amusing. She will go over to the bathroom door when I leave it open and look in and no longer hisses, which is encouraging, but if Darcy won't come down and introduce herself I am unsure of how to proceed. I took a nap in the kitten room this weekend, leaving the door open and the lights off and nothing happened.

I would leave the door open and leave but the bedroom is on the top floor and the kitten room is in the basement so I know I would not hear a squabble if one came up *shrug* I am really unsure how to proceed at this point, but I'll keep leaving the door open and hopefully the kittens will make it easy on me. If not, we might have to visit one of the mothers going up for adoption while the other stays behind to do the remaining few weeks of care - but that several weeks from even being a consideration.