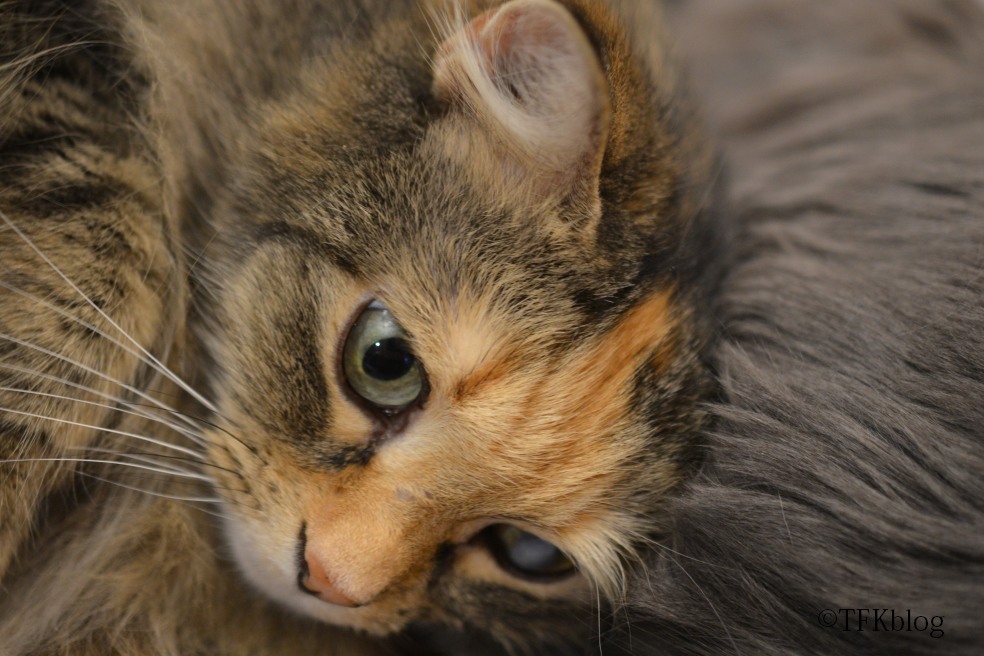 My beautiful girl has had a pretty miserable week. It started off with some vomiting. With multiple cats, it can be hard to figure out who is having issues, or even if a one-time event is even an issue. I didn't think much of the first vomit or two, but after that, they started becoming bright yellow and I knew that something wasn't right.
Then I heard the sound and I ran to the source and found Fleurp next to a pile of vomit. I offered her a treat and she ate it happily so I thought she might just be dealing with a sour stomach from being hungry.
Then came the explosive diarrhea that landed all over her "pantaloons". After that, her stool didn't recover. It was quite mucousy and then the blood drops started due to irritation (bright red blood drops on the outside of the stool is generally simple irritation).
I weighed her and noticed she was down a few ounces, so I decided to isolate her and see what happened. I started Slippery Elm Bark to help soothe her intestines and gave her several food options. She didn't vomit the first eight hours and ate some. She didn't eat as much as I would have liked but she regained most of the weight she lost. I was feeling optimistic that things were on the mend, but I wanted to be sure so I kept her isolated overnight.
She woke me up very early the next morning saying she wanted out. She was bright, alert, and happy to be free from the room. I went to check out what she left me in the litterbox, hoping we'd have a formed stool - or at least better formed - and found she vomited up most of what she had eaten during the day.
So off to the vet she went.
She didn't seem painful, nor did she have a fever, but with several days of vomiting and diarrhea and weight loss, I didn't want to risk missing something. I could wait a day or so more to see what happened, but that would be butting up against the weekend which I know full well would most likely mean that I would end up at the emergency clinic. So we took some x-rays hoping we would find something or more hopefully find nothing.
The x-rays showed a little something over a loop in her intestine so we decided to operate and go get it. Fleurp has a habit of chewing on plastic and recently took up chewing on the tips of the Christmas tree. I had found a few nubs around the house and I feared that she swallowed one and the sharp pointy bits were causing massive irritation. I also have her history to go on, where when she first started showing signs of being anemic in the spring she would lick cement and ate a piece once and it took several weeks to work itself out. So, I decided to do surgery and go get it.
Except it wasn't anything. Apparently, it was just a well-placed calcification to look like an obstruction. So she went through that basically for 'nothing'. (But at least we know it was nothing instead of sitting around wondering)
She received IV fluids, we did blood work (things are good) and so far, things are 'better'. I am not isolating her so I have no idea what her stool looks like, but at this point, I'm not sure she is producing anything. Her stomach and intestines were empty when they were examined and she has only had a few small meals since coming home yesterday.
She was excited for breakfast this morning. She had a little before walking away, but she came back for a little more a couple of hours later. As soon as I get this post up I am going to offer her some baby food and inspect her incision and search for any signs of vomiting (I haven't heard anything)
If I don't get a good sign that things are going well I'll probably isolate her tonight until I get some stool. *fingers crossed*