Bet you weren't expecting this one.. I know I certainly wasn't.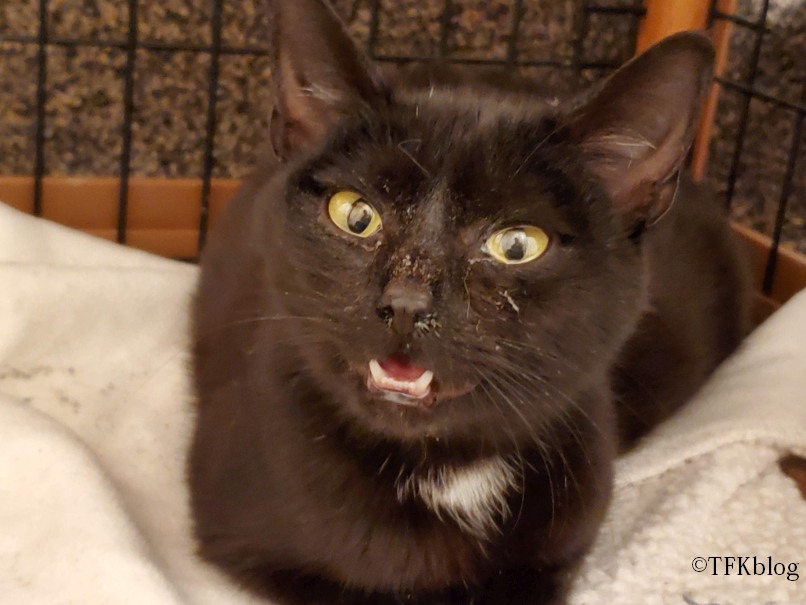 Meet April.
And if you haven't guessed from the title of the post and the photo just presented, this was one heck of a ride these past 24 hours.
So, you know I have Hedy (and if you don't, say
hello to her here
). I've been jonesing for kittens and the rescue follows my Facebook and Instagram pages and let me know they were transporting two pregnant cats up to NH and asked if I would like one. One. Okay, I figure she has other foster homes wanting kittens, so I said yes and I was scheduled to take Hedy when she came off quarantine.
I waited a polite amount of time (I hope) before I asked if they had a foster lined up for the second one. They did, so I was resigned to my one pregnant cat.. (like that isn't a lot anyway, and with her illness what was I thinking???)
So Hedy came, and Hedy went right downhill and I was very concerned as were the vets, but after a thankfully short amount of time, she bounced back. She's still sneezing somewhat, but the discharge is minimal and she is eating well, so I figured I lucked out on this one.
Then I was offered another pregnant cat from the same location. Um.. well yeah, cause.. well, frankly, kitten fever does really stupid things to your judgment.
So, the new kitty was transported up on Saturday. I didn't hear another thing about her until Tuesday when I was asked if I would be home that evening to accept a cat. I said I was and we scheduled a time to do the hand-off. 6PM was to start the kitty cyclone of events.
She was dropped off and I was told that she had some litter box issues (that she didn't make it to the box on time) and that she seemed restless so she could be starting labor. I heard her sneeze, so my priority was to get her out of the main house where my cats are and get her into isolation. (My foster room is downstairs and my cats are currently not allowed to go downstairs so there is a three-door isolation option for me.)
Well, she was sneezing, she was open mouth breathing, her eyes were goopy, she came with medication and eye ointment so I went about getting everything ready to medicate her and get her settled in. I probably sat down with her around seven and proceeded to give her a saline flush to help get the congestion out of her nose.
She sneezed up some mucus, so I tended to her, and soothed her, and listened to her cough a horribly raspy cough. She was not interested in food (with possible impending labor I wasn't shocked about this, but with what happened to Hedy I was concerned). I checked her hydration level and it was pretty poor, so I set about getting fluids warmed up and ready to give her.
Fluids went very well, but just as I was finishing up she went into active labor. I didn't want her giving birth on me, so I put her in a box, and she just lay there. She didn't really move, she seemed really disconnected from what was going on. It was not good. What was also concerning was the fluids were leaking right out of her. Despite pinching off where the needle went in four or five times, it would not stop.
I let my contact at the rescue, K, know that we were in active labor and what was going on. About an hour into it I was getting concerned and googling just how long in active labor I should start worrying. It was about an hour.
So I chatted with K and told her more about what was going on. About an hour and a half in I realized this was not going to end well. We chatted about going to the emergency clinic and at 11pm I set off.
There is far more to this story, but I am so exhausted at the moment I don't have time to tell it and this post is getting kinda long.
I will tell you that it ends with four beautiful baby kittens, all black like mom. Some have some white spots already, but frankly, I am too tired to tell you who is who. I do know we have three boys and a girl.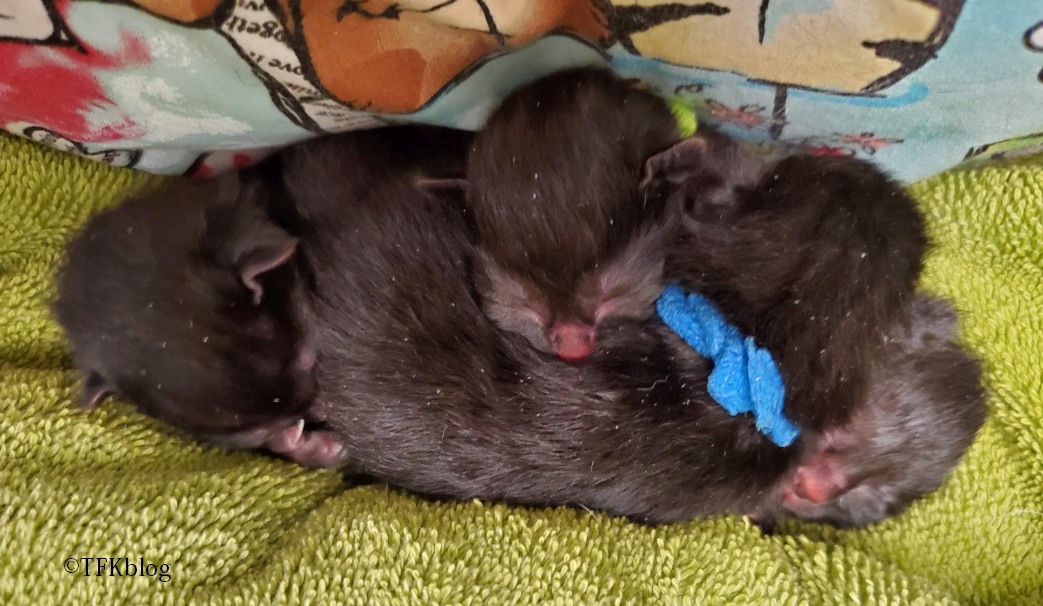 Pay no attention to the dust. I didn't see it on them when I took the photo, so I'm not sure what that is all about.