Last night, the littlest kitten slipped quietly away while I was warming up a face cloth to try to clean off his face and attempt to alleviate some of his congestion.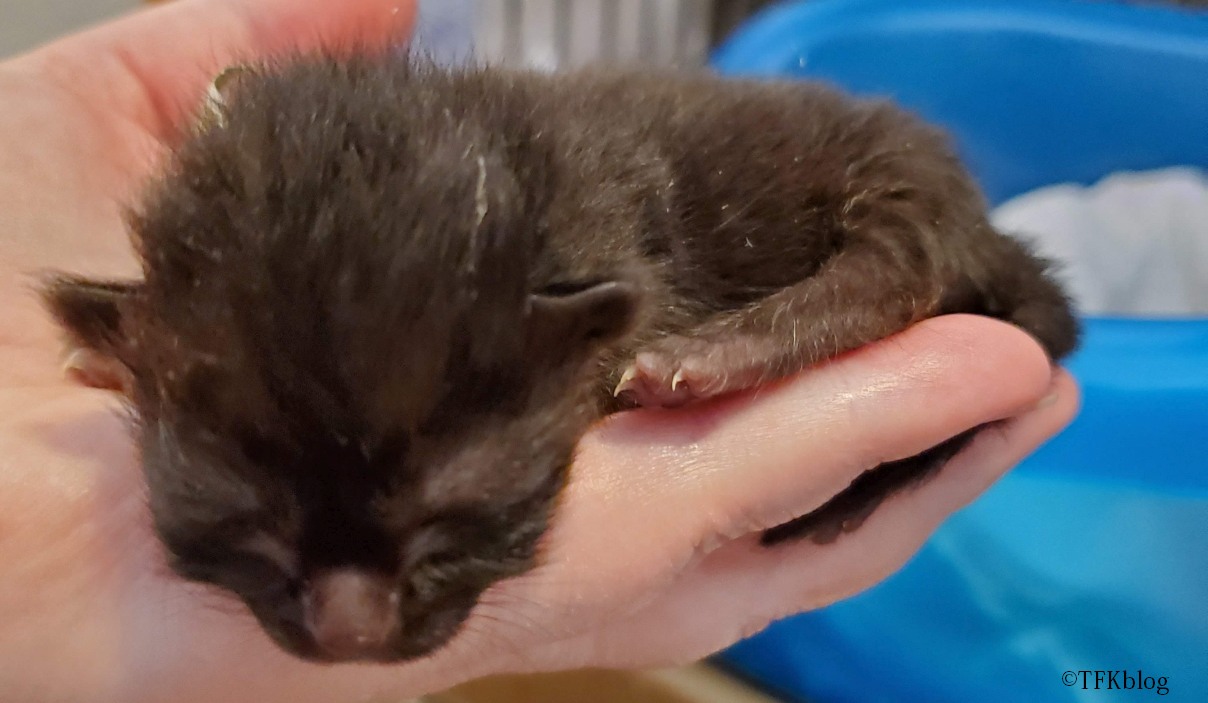 (a photo from a few days ago)
While this little kitten started off being feisty and a bit of a mischief maker, sadly his exposure to April's cold and the lack of care from her at the very beginning was too much for him to overcome.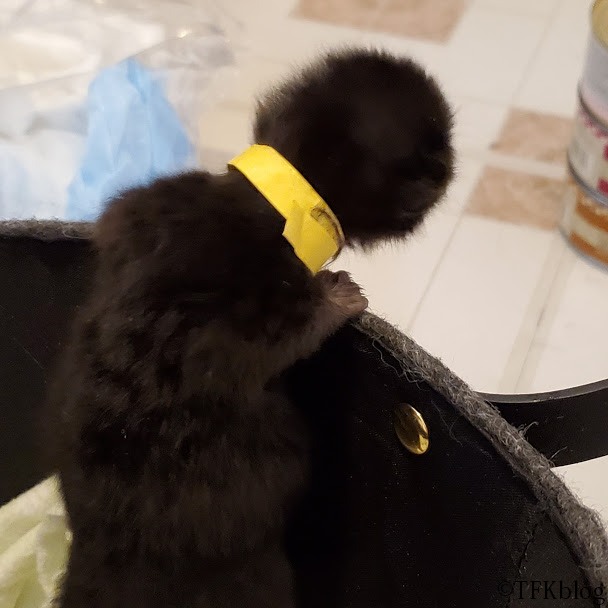 He was a climber, he was not content to stay where I put him even though there was a source of heat there while he waited for his siblings to be fed. He would only stop climbing once they were all in that basket with him. He was not a fan of either collar he had. The eclinic gave him a yellow collar made of vet wrap initially and he got that off pretty quick. I had paper collars that I was afraid to close too tightly for fear of growth. While his siblings were just fine with theirs, This little boy got his foot caught in his so many times that I finally took it off altogether. I laughed at his determination, I admired his spirit. I thought if any of them had a chance to overcome what life had thrown at him, it was this little boy.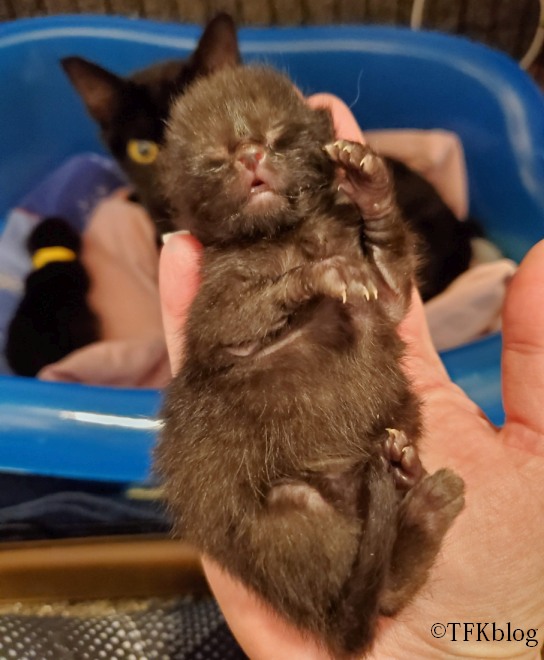 Life became harder and harder for this one. I reviewed all of my data, everything I knew. I used every trick at my disposal. I had to hand feed him from almost the beginning and when he could no longer do that I tube fed him. Each feeding, no matter how warm I made the milk, led to him being chilled and he would take longer and longer to warm up. His mouth was gummy so I gave him fluids to combat dehydration, and it made little difference. Two days ago I wondered if it wouldn't be kinder to let him go instead of putting him through this. That morning he made a nice turnaround, put on weight, was looking plumper and was more responsive, didn't chill as easily.. I thought that the antibiotics were making a difference and that with time he had hope. Last night changed that. Despite being full of belly and warm of body, and loved fiercely by myself and April.
***
Before April, actually, even before Hedy, I was feeling a little underused. I have had a lot of experience with bottle babies and sick babies and I wondered if I was ever going to use that experience again. Being in New England, there isn't the overwhelming crush of homeless cats that there used to be so a lot of my fosters over the past few years have been healthy. I couldn't tell you the last time I bottle fed a litter of kittens (although I'm sure I could search the blog to find it - which is one reason I'm keeping this blog). I wasn't really complaining. I knew full well the pain both of those conditions brings to kittens and to the soul who only wants to save them all. But that thought was fresh in my mind a few days ago when this little one took a turn for the worse. I remembered that day back in 1988 when I was watching the soap opera I became hooked on because my mother watched it: "Guiding Light" One of my favorite characters "Fletcher" was finally happy. He had a wife he loved, she loved him, there was no one trying to break them up.. things were going well. Mauve, his wife, came to him in one scene and talked about flying off for work for a few days and gushed at him how happy she was and how wonderful life was. My response to this outpouring of affection in my adolescent mind was "well, she is going to die" and low and behold she did. Ever since I have jokingly referred to too much of a good thing as "Soap Opera Syndrome" where if everything is going all too well, you just start expecting things to go bad. I don't do it as a pessimistic thing, only as a "well, you should probably keep an eye out for trouble" sort of thing. No wearing rose-colored glasses if you will.
And this is why I have chosen to name this little one Fletcher.
***
The other three were doing pretty well until last night. The one that was originally sporting the blue-collar needed a little extra help nursing (supplement feeding) and was sneezing regularly. His eyes opened .. um.. a while ago? (I have so lost track of time) (heck, I am missing a lot of milestones here being so involved with keeping them alive) which seems like a good thing. The one in the red collar, the strongest, has also started sneezing.. I am hoping this is the last of the bad news..