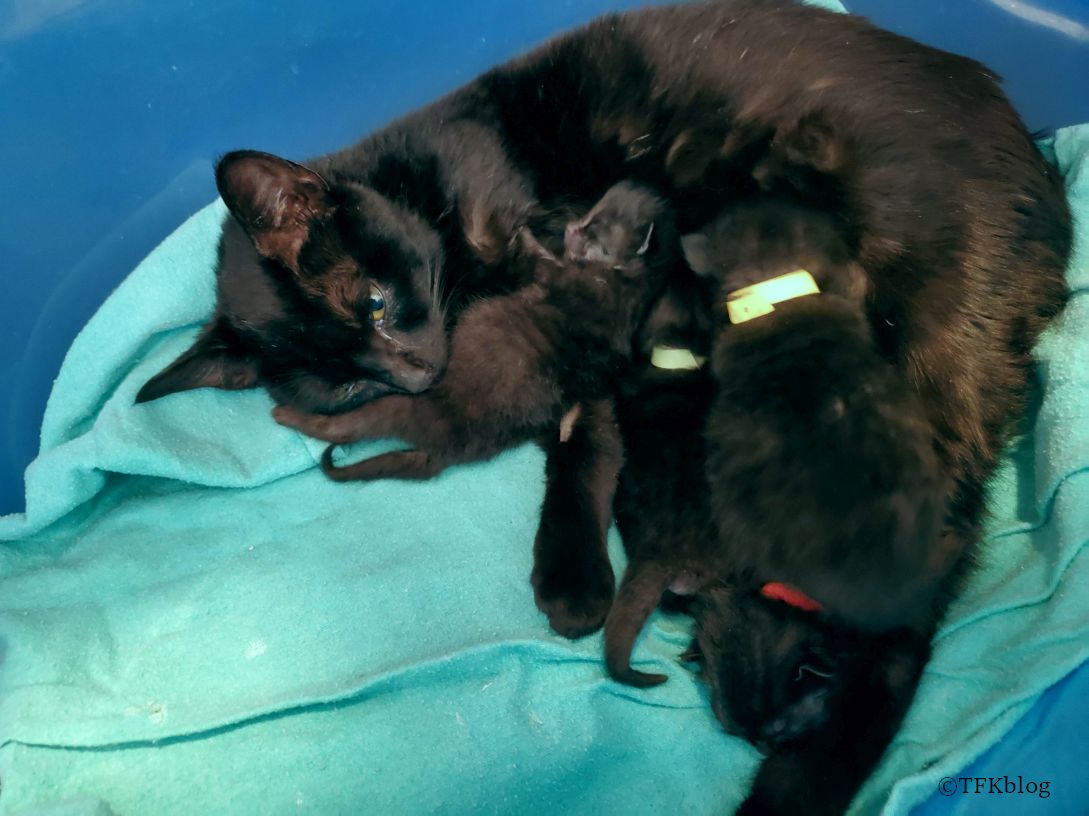 After losing Fletcher, the rest of the kittens seemed to be going downhill. I was not strong enough to watch them die one by one so I contacted the rescue and asked that they take them. It was several hours before they left and the kittens once again rallied and I started second guessing letting them go, wondering more than once if they didn't have their best chance here.
But I know that Fletcher rallied a couple of times, and each time it got harder and harder to come back from the back slide. I knew how hard it was on me to watch him die. I hated to pass that burden on to someone else, but I was getting emotional over looking at products at the grocery store, so I also knew that it needed to be done.
I know many people think "oh, fading kitten syndrome" but I want you to know that there isn't an actual thing called FKS. That is a catch all term for several health issues that kittens routinely face that can cause death. It might be as simple as being chilled or missing a meal and having low blood glucose to as complicated as an infection or even birth defects like a liver shunt.
It is my belief that the URI that they were exposed to from April or even something at the emergency clinic (absolutely no blame there) caused an infection that caused their organs to fail. At the end their stomachs were not emptying well and they were quite fussy. I hoped against hope that it was just gas or something else that was fixable, but looking back I am going to say that it was never fixable. All there was available to these kittens was the few short days of life.
When I lose kittens I try very hard not to focus on what was lost but on what they had when they were here. None of us is promised a long life, and if that life is three days or three decades we are never ready for them to go. All we can do is give them our best, love them and make them happy. April's kittens had that to the best of my ability..
My only regret is not having a photo of April standing up on the cage meowing at me to give her back her kitten when I was tube feeding it. When I initially started caring for her kittens she tried very hard to take them back from me. Over the days, I think she realized that I was helping and was okay with it as long as they weren't screaming. Sometimes I had to make them scream (inserting a needle for fluids) and she would jump up and demand I either make it stop or give them back. If I didn't stop the kitten from screaming she would run to the toilet in an attempt to get to the top of the cage where I was working (toilet to sink to cage) but I would assure her that the kitten was fine and she would get him back shortly, and she would stand next to me, looking up with her sleek black head and her big wide eyes and her mouth slightly open so the little peaks of her snow white teeth peeked out. It was so adorable..
Anyway. My goal was to name the kittens after giraffes in the wild and to highlight conservation efforts of giraffe while they were with me (and introduce you to Raffe 2.0) but that is not meant to be. I might do that at some point, but now it only seems fitting to give them names of the famous giraffe April's offspring:
Autumn (female, b. 2013) Green Collar
Tajiri (male, b. 2017) Blue collar
Azizi (male, b. 2019) Red collar.