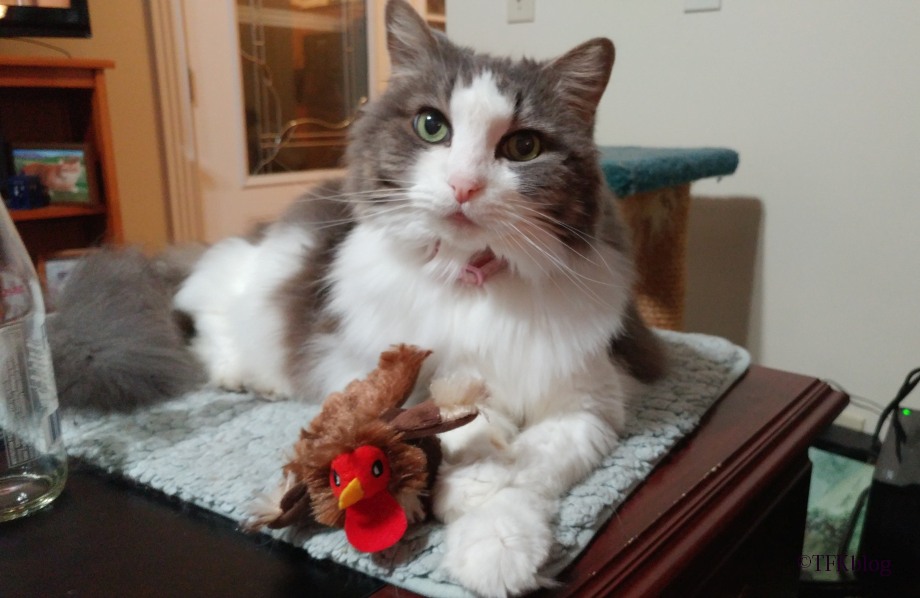 What I am most thankful for is I get another Thanksgiving with this girl. This is the same photo as last year because she is currently sleeping in her little house.
These past few weeks have been rough on her - and me. I am constantly trying to figure out how much quality of life she has; when she has a rough day I wonder if everything we are going through is worth it for her. At this point, rough days only last a day and she comes around. She is sleeping more than she used to, but she still is demanding food or attention and giving me what for if I don't jump at her whim. Most mornings she wakes me up, even if she no longer sleeps in the bed.
It has been hard
for me.. I am still grieving Jack, and I swear that this slow decline is way way better than the surprise ending Jack had, but it doesn't make it any easier.
She is dealing with failing kidneys and we are giving fluids. She hates it. Fortunately, she doesn't fight it and I cuddle and kiss her while it is happening, but as soon as it is done she runs for the hills. Food is an issue too.. she stopped eating the raw in May when she had the surgery to remove the lump behind her ear. Finding a food she will eat consistently has been a challenge. Keeping her brother from demanding his fair share of her food has also been a challenge 😸
She has also lost some weight. At her height she was 14lbs. When we finally stopped all dry food and got them on a raw diet she went down to 12 and hovered around that for years. She is currently ten and a half on a good day. She has lost most of the muscle mass in her feet and her arthritis are conspiring to prevent her from wanting to walk up and down the stairs these days. Because of this, I ordered an Assisi loop lounge. I had the original loop that I won from The Conscious Cat and that helped her quite a bit. While I was using it she actually wanted to sit up in the cat trees and I even found her in a window!! (granted there was a chair there that helped her get up, but it was impressive none the less) so I am hopeful that the lounge will help as well. I decided on the lounge over the loop because the loop is not rechargeable and it only lasts a short time.
Because of the price of the lounge, I have started selling "
Scrapnip
" toys again. I set up a
Scrapnipping page on Facebook
to try to drum up business.. but I am happy to work with you in whatever way you might want to reach out to me if you are interested in buying some. I even listed a few knitted bed I made, but no one has seemed interested in them. Probably because I couldn't figure out a price to ask for them.. people hate it when you don't price things 😸
Everyone else is doing well. Twee loves to sign us opera at 5 in the morning.. Eli likes to yell at us for not doing whatever popped into his head. He is 17 years old and never really bothered communicating with us before now so he is a little unsure how to do it. Fleurp is still fluffy and Skippy is still doing his thing..
This was very much a difficult year for me (see Jack) and I know I have not kept up with my blogging as I once used to. When I originally set up this blog I intentionally didn't name it after any of my cats because I knew there would be a time when they would pass and I didn't want that burden on myself or my blog with changing it or keeping it. When Em, Ollie, Kodi, and Kit passed it was somehow okay to continue on. as if this were independent of that.. but Jack.. Jack really was the inspiration behind starting the blog so I guess it makes sense that it is different. I am hoping next year will be better.. easier.. heck, I will take just having fewer tears
I know, I know, this post has become such a downer.. I am sorry. Hopefully, it will help you to look at your loved ones who are frustrating you with softer eyes and give them a big ol hug and be thankful that you are able to be with them this year.
If you are facing this holiday without your loved one with you.. I send a big ol hug to you..
Heck, I send a big ol hug out to anyone who got through this with me.. It means so much that you keep coming back and want to share my journey, or at least this little part of it.
So thank you..
And I hope you have a wonderful holiday full of love and delicious foods to eat, and cat fur up your nose.